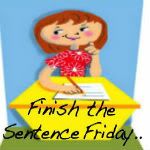 This week's sentence is :
Speaking from experience I am going to give you a little advice on…..Things NOT to say to your wife when she tells you she is tired of being overweight.
I can talk about this because my own spouse, who is usually not one to spew out things without measuring how they might sound before saying them, nearly lost his life if he had been within arms length of me this week.
I am fat. I will tell you I am fat. Along with that I have fibromyalgia and depression. My job is my blog, some advertising there and keeping our children alive till he gets home to tell them Hi. Every time I complain about my weight and wanting to change it he always says, " Baby I love you period. Not about your weight. I find you beautiful and sexy regardless." Which of course sounds good at the moment, but as a woman we all know we pick it apart later , and of course justify his saying because A) he has to sleep with me B) I cook his meals and C) He wants to get laid sometime in the next 20 years.
Truth, he likes thicker women. Bigger truth I will always be a thicker woman, I just hate being THIS thick. Even bigger truth, my boobs do one heck of a job of hiding my weight because they are enormous, and even when I have lost tons of weight, they stayed the same. I lost not one inch in my boobs. Not One. Keep in mind I wear a DDD /EE in a good bra. So yeah I have huge breasts. For the record, no I could not breastfeed, so yes I prove God has a wicked sense of humor.
Anyway, I have seriously been considering getting on a 90 day challenge with a company I have done a lot of research on, and I like what I see results wise and health wise.
But the cost makes me cringe. It isn't cheap. I am a mom. We know what that means. I will spend my last dime and scour couches to get my kids or husband or nearly anyone else something, before I will spend that kind of money on myself. It is what it is.
Matter of fact my free time is basically non-existent. The minute I think I might have some I am guaranteed to have someone need me for something and there goes that free time. By the time I do have actual time where I don't have to do anything I am so wore out from doing everything for everybody all I want to do is either work on my blogs, talk to some people on Facebook or take a hot bath and go to bed.
So I was talking to him about this program, and of course whining about the cost. Let me point out here my husband used to be a little heavier. But now he is well defined and cut in all the right places. He had a complete physical and found out his thyroid was out of whack and his testosterone was way low. Getting that straightened out changed him completely. Plus he has a job that involves lifting, moving and he walks on average 6 miles a day doing it. His meals consist of a quick sandwich in the morning, one at first break, one at lunch and sometimes he eats dinner if he isn't worn out. He is the only person I have ever heard of that he doctors TOLD him to grab some McDonalds because his bad cholesterol was dangerously low, because apparently it is only bad if it is so high, too low is even more dangerous. REALLY?!!!
So he says," Well I lost all that weight at the end of the year and I didn't do anything special".
I will let that sink in for you. Give it a second.
I LOST IT. Literally. Had he been in arm's reach I would have been a widow.
I said " Well gee if I had a full time job with REAL adults that kept me moving instead of driving everywhere I probably could do the same. Oh and hey let's not forget you were skipping your meds, and your shots, and that also had an effect. Oh and that your job is physically demanding ALL DAY LONG. I mean really why does it not just fall off for me that easy. I mean I walk around the house picking up messes, doing laundry , cooking meals, running people everywhere for everything. I want to go to town to walk, but I hate to do it alone and I can never find anyone to walk with. Oh and I also feel GUILTY for using the gas to DRIVE to town to do something like that for myself, because you know I don't work outside the home so I feel guilty for even considering buying or splurging on myself at ALL. Sure no problem why didn't I realize how simple it really was. "
Silence. You could hear his face freeze OVER THE PHONE, when it dawned on him exactly what he said and how it sounded.
Then I had to run to town, again not for myself, because we were out of milk and bread, and I texted and asked if he would like me to bring him something for lunch, since I was in town. So I took him a big angus burger from McDonalds and I got myself a Grilled chicken no tomato no mayo. I ate that sandwich and a few pizza rolls that day and that was all.
Getting face to face with him was even harder. I had to swallow back the hurt. I looked at him and said, " Do you realize the hurt you caused me with that comment earlier. Even worse now I am left to wonder are you just telling me I look fine when you tell me that other stuff or is it a big lie to shut your fat wife's whining up?"
Yeah it was that bad.
Even writing about it I am livid.
I know I have to lose weight, I know it is on me.
I need to love myself enough to not feel guilty to want that.
But husbands.. seriously. just don't say anything.
Support us in whatever.
But don't say anything about how easy it should be.
Just.
Don't.