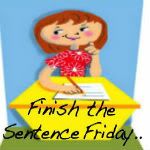 Ahh Social Media.. this week's topic for Finish the Sentence.
What do I think of Social Media?? I started blogging before there was a G+, when StumbleUpon was just a spark on the internet, Pinterest hadn't been invented and MySpace was dying its slow death as Facebook danced a Jig on its gravestone. I started on Blogger and learned the ins and outs of design and how to get read. I learned how quickly adults can turn into cliquish high schoolers and attack another person because they don't agree with what they wrote. Other bloggers learned when I was pushed to pick sides my hair caught fire and I was forced to break bad and tell some people to grow up.
I think you get out of it what you put into it and sometimes you put more in for others and have to learn when enough is enough. I don't mind promoting you , I don't mind sharing. But I do have an issue when there is not some form of reciprocity there.
I am on Twitter and have a Fan Page on FB. I have LinkedIn and SkillPages and Klout.
I have all my adult conversations on here and more than once it has saved my children's life.
I think it is what you allow it to be in your life.
For me it is the acknowledgment that I am not alone in my struggles. Laughter is the best medicine, and I have a ton of people that I would love to invite to the hill for a fire pit and drinking evening. Bring the tents and the RV's we will make it a weekend.