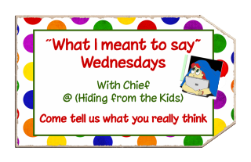 It's what I meant to say Wednesday with the Chief.. Want to play along simply click that cool box up there and you will be warped to her site where you can link up and read other great visionaries in the blog world..
Hubby- When I said I felt like the only parent in the house most days what I meant to say was…
Srsly?? Why do you bother getting up?? I understand you work all week, I get that seriously I do. But ya know I am also working a full time job, caring for kids and my mom, doing housework PLUS making sure that Doug's bipolar is not leading him to pop a punch in on some unsuspecting brother. OH yeah let's not forget the constant digs made by them to each other, and the smart alec comments I get to everything I say. Wonder where they picked up that little trait from Hmmmm??? See you can teach them the BAD stuff but don't have the energy to get up and teach them other stuff?? YOu come home and whine about how hard work was, which I am sure it was. But then you show me all the stupid crap your buddies nad you blue toothed, the jokes you told, ya know basic ADULT conversation. Sooo tell me again how horrible it is?? Do you get out of this house?? Do you get to go without some form of child attached to you OR your mom who is ill and your responsiblity?? If you are overwhelmed at your job do you have people who pitch in.. oh yeah yeah you do.. Well guess what NOT ME.. Just me all alone doing it, every day.. so excuse me if I seem a bit miffed.. No wait miffed is not the word.. Depressed , overwhelmed, alone, frustrated, those are all good words…
So how about getting out ofbed and NOT falling back to sleep in whatever piece of furniture you land in when you are home?? How about getting up and working around the house on some things that YOU have to do cause well I can't, without me begging you to do them all weekend to no avail. How about motivating the boys and getting them to work with you in the garage without whining I have to be there to. I do everythign else with them without you.. can I have a day? An hour Hell 10 minutes?? Is that so much to ask..
Dear bipolar son,
I am aware you are bipolar, I am also aware that you have an anger issue. However, I am tired of your constant entitlement. Your illness does not give you free reing to get what you want. The medication will not fix it all at some point you have to shut your mouth and engage the brain. You cannot fuss about your brother's fgiving you a hard time in a game PLAYING then turn around and do the same or worse. BTW next time you even THINK you are big enough to take out anyone who ticks you off remember I am bigger and I am badder. I love you enough to whoop your tail if I have to. Only as a last resort but when you decide to put your hands on others TRUST that someone else will be putting their hands on you. NOT cool. Grow up, suck it up and uit whining and make an EFFORT to get better and not try to be like your buddies or friends who do this or that. Ain't ever gonna come a day that you can take me son, so put your bulldog mouth in neutral and keep your canary tail on the porch. I LOVE YOU, I HATE BIPOLAR!!
Love,
Steve Austin ain't got nothing on me MOmma…
Bipolar disorder,
when I said that I realize you are a chemical imbalance in the brain and that you are treatable..
What I meant to say was
BITE ME!! Srsly!! You SUCK big green donkey weiners with BRIGHT purple polka dots!!
OK I think I feel better we shall see…

I need to thank all of those who have recently given me awards.. and I am so sorry I have not goten them up before now..
I am the worst about following rules lol. I know I know…
So If you see an award over on my awards thing that you want… snatch it and say I gave it to ya cause at some point I probably would. I would like to thank all the people who awarded me, and I am sooooo sorry I forgot who gave me what.. Well technically I had it all written down but hte one time I tell my kids to throw away stuff they find int he living room or on the desks, they actually did it.. Go figure.. *sighs…